Carl David Ceder, The DFW Defender
Background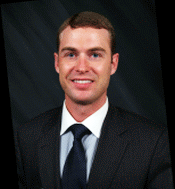 Carl graduated from the University of Houston Law Center in just 27 months, graduating in December of 2007.  He excelled in many advocacy-related activities while in law school, most notably as a senior member of the University of Houston Interscholastic Mock Trial Team.  Carl graduated from the Red McCombs School of Business in 2003 earning his BBA in Finance in under 3 years.  
Carl is a fifth generation Texan, and is proud to live in the state where he was born and raised.  Carl graduated salutatorian (2nd out of 436 students) from Austin Lanier High School, and perhaps his proudest accomplishment is starting both ways on his football team, including the 1998 26-4A district champion Lanier Vikings.  Carl is also the proud son of a former Austin area Texas High School Football Coach. He believes that many of the same fundamentals that lead to success on the football field (discipline, work ethic, and preparation) also apply to winning in the courtroom.
Carl received his Juris Doctorate Degree from The University of Houston School of Law in December of 2007, and was admitted to practice to the State Bar of Texas on May 2nd, 2008.  Carl is also admitted to practice in the Northern, Western, and Eastern Federal Districts Courts of Texas.
Dallas Criminal Defense Attorney
Carl is experienced in all matters relating to criminal defense and has the ability to practice anywhere in the Dallas-Fort Worth metroplex, including Dallas County, Collin County, Tarrant County, Denton County, and all adjoining counties.  He has a strong and sincere passion for representing individuals who are in need of an honest and aggressive criminal defense attorney.  Regardless of the nature of the charge, Carl will always promise EVERY client he interacts with that he will work hard to do everything in his power to guarantee the best possible outcome for their case. 
Dallas Personal Injury Attorney
Carl has the ability to handle and pursue any personal injury claim anywhere in the State of Texas.  It is vitally important to entrust your personal injury matter to someone with the resources to challenge insurance companies to provide you with the compensation you deserve.  If you or a loved one has been injured as the result of the negligence of another, please call 214.702.CARL (2275) now.  Insurance companies will do everything in their power to undermine legitimate personal injury claims.  Therefore, it is crucial to entrust your case with an attorney who will defend your rights.
Dallas DWI Defense Attorney
Carl has further specialized his experience on charges related to Driving While Intoxicated (DWI).  He has tried many cases to a jury, and also has negotiated favorable outcomes for both felony and misdemeanor DWI cases where the state has offered to reduce the charges in lieu of proceeding with a trial.  Carl has gained acquittals ("Not Guilty" verdicts) in 6 separate counties in DWI & DUI cases thus far, including in felony charges and in breath test cases.  Given his experience, Carl has all the requisite knowledge to properly evaluate a case given all factors involved.  While each case is unique in some way, Carl promises to always work diligently to ensure that the best possible outcome is always reached.  And above all, he will work hard to always defend your rights to make protect your life, your freedom, and your record.
The Law Offices of Carl David Ceder, PLLC, is committed to staying on the cutting edge of DWI Defense.  Carl is Certified in NHTSA Standardized Field Sobriety Testing, which is the same certification arresting officers receive at the police academy when learning how to properly conduct a DWI invesigation.  He has also received Certification as a Field Sobriety Testing Instructor, which means he is qualified to actually teach Standardized Field Sobriety Testing to police officers. A  Carl is also a Certified Technician of the Intoxilyzer 5000, which is the Breath Testing device used by law enforcement in Texas.  Additionally, Carl has received Advanced Training in the Horizontal Gaze Nystagmus (HGN) Test, which is one of the Standardized Field Sobriety Tests used by police officers to determine whether someone may have been Driving While Intoxicated.  He has also completed a NHTSA Drug Evaluation and Classification (DRE) Course, which is the functional equivalent to the ARIDE Program (Advanced Roadside Impaired Driving Enforcement).
Membership:
Credentials:
Awarded a Certificate of Completion for the National Highway Traffic Safety Administration (NHTSA)/International Association of Chiefs of Police (IACP) Standardized Field Sobriety Testing Practitioner Course by Dr. Lance Platt
Completed the Breath Alcohol Technician Course of the Intoxilyzer 5000EN according to the United States Department of Transportation Code Federal Regulations 49 Part 40 by Dr. Jan Semenoff
Completed Advanced Training in the Standardized Field Sobriety Tests, specifically focused on Horizontal Gaze Nystagmus (HGN): Vision Science Perspectives by Dr. Steve Rubenzer
Awarded a Certificate of Completion for the National Highway Traffic Safety Administration (NHTSA)/International Association of Chiefs of Police (IACP) Standardized Field Sobriety Testing Practitioner Update Course by Dr. Lance Platt
Awarded a Certificate of Completion for the National Highway Traffic Safety Administration (NHTSA)/International Association of Chiefs of Police (IACP) Standardized Field Sobriety Testing Instructor Course by Dr. Lance Platt
Awarded a Certificate of Completion for the National Highway Traffic Safety Administration (NHTSA)/International Association of Chiefs of Police (IACP) Drug Evaluation and Classification Program (DRE) Overview Course by Dr. Lance Platt
Attended the TCDLA Seminar 7th Annual Top Gun DWI : A Blood Test Trial From Start To Finish in Houston, Texas
Attended the TCDLA Seminar Highs, Lows, and the Deep Ellum Blues: Defending the Drug Case in Dallas, Texas
Attended the 13th Annual NACDL & NCDD seminar DWI Means Defend With Ingenuity Ultimate DUI Defense: Strategies for the Courtroom Warrior in Las Vegas, Nevada at Caesar's Palace Hotel & Casino
Attended the TCDLA Seminar Stuart Kinard Memorial Advanced DWI Seminar in San Antonio, Texas
Attended the TCDLA Seminar Sexual Assault Criminal Defense Lawyers Project in Fort Worth, Texas
Attended the 2011 TCDLA Seminar Mastering Scientific Evidence in DWI/DUI Cases in New Orleans, Louisiana
Attended the 2011 TCDLA Seminar DWI Defense Project in Arlington, Texas
Attended the 2011 Texas State Bar's Advanced Criminal Law Course in Houston, Texas
Attended the Center for American and International Law (CAILAW) Seminar Jury Selection & Communicating with Jurors for the Defense in Criminal Cases
Attended the 2012 TCDLA Seminar DWI Defense Project in Arlington, Texas
Completed the 2012 9th Annual Center for American and International Law (CAILAW): Criminal Defense Trial Skills & Trial Law Program - A Program For The Defense
FREE CONSULTATIONS — PAYMENT PLANS ACCEPTED
Carl David Ceder is an experienced Dallas Defense Attorney, Dallas Personal Injury Attorney, Dallas Auto Accident Attorney, Dallas DWI Defense Attorney, and Dallas DWI Defense Attorney who practices all over the Dallas Metroplex, including all of Dallas, Tarrant County, Collin County, Denton County, Rockwall County, and all adjoining counties:
Dallas DWI Defense Attorney - Dallas, University Park, University Park, Grapevine, Garland, DeSoto, Irving, Carrollton, Addison, Duncanville, Richardson, Cedar Hill, Cockrell Hill, Coppell, Grand Prairie, Lancaster, Lewisville, Mesquite, Seagoville, Wilmer, Wylie
Fort Worth DWI Defense Attorney - Fort Worth, Southlake, Keller, Arlington, Bedford, Burleson, Colleyville, Crowley, Euless, Everman, Grapevine, Flower Mound, Grand Prairie, Hurst, Lakeside, Mansfield, North Richland Hills, Westlake, Saginaw, River Oaks
Collin County DWI Defense Attorney - McKinney, Plano, Garland, Allen, Dallas, Carrollton, Richardson, Fairview, St. Paul, Weston, Lucas, Melissa, Nevada, Westminster, Frisco, Celina, Murphy, New Hope, Prosper, Wylie
Rockwall County DWI Defense Attorney - Rockwall, Dallas, Fate, Heath, Mobile City, McLendon-Chisolm, Rowlett, Royse City, Wylie, Munson, Blackland
Denton County DWI Defense Attorney - Dallas, Denton, Flower Mound, Fort Worth, Southlake, Hebron, Argyle, Justin, Lake Dallas, Plano, Bartonville, Coppell, Northlake, Carollton, Corinth, Hebron, Highland Village, Justin, Lakewood Village, Lewisville, Northlake, Prosper, The Colony, Westlake